try to express yourself even more with photos and cause that enigmatic sensation in viewers eyes...brain, pattern, emotions, attraction, tralala, you know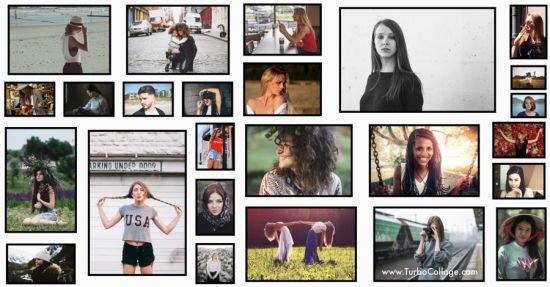 "create collages made up of images, text, as well as transparent or custom backgrounds.User-friendly layout and importing/exporting options.The GUI looks clean and intuitive, allowing you to add photos in the working environment using the built-in browse button or drag-and-drop support.It works with the following file formats: JPEG, PNG, BMP, TIFF, and GIF. You can print or export the generated collage to one of the aforementioned file formats, or save it as a project on your computer so you can easily import it for future editing tasks.Customize your collages - You are allowed to move pictures to the preferred position in the working environment, delete the selected image, resize objects, lock the image and text, as well as shuffle items in the collage. TurboCollage lets you choose between different collage patterns (mosaic, picture pile, picture grid, center frame, zig mosaic).You may opt for a transparent background, add a photo from your computer, or select a background color, and draw shadow with custom x and y offset and blur options.
http://www.turbocollage.com/
release 11 feb. 2019 full crack
https://www8.zippyshare.com/v/FeIOFeBf/file.html
https://www.mirrored.to/files/NAAAYW8T/TurboCollage.pc.full.crack.7.0.3.pefelie.site.rar_links
- install, exit, copy the cracked file, scanned by me
if you have problems or requests, you can post them anonymously by clicking here, i will answer to all ..i have no ads, no redirections, no fking tricks at all !
Last update on February 11, 6:53 pm by aurel.